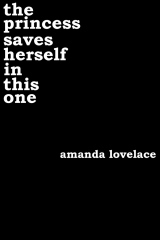 "Ah, life- the thing that happens to us while we're off somewhere else blowing on dandelions & wishing ourselves into the pages of our favorite fairy tales."
A poetry collection divided into four different parts: the princess, the damsel, the queen, & you. the princess, the damsel, & the queen piece together the life of the author in three stages, while you serves as a note to the reader & all of humankind. Explores life & all of its love, loss, grief, healing, empowerment, & inspirations.
My Review
This book was a Christmas gift from my little sister. It was amazing! I finished it in less than a day. It is a short collection of poems. To be completely honest, I am a bit speechless. This book is so raw, heartbreaking, powerful, and uplifting in one. It made me mad, sad, and happy. Some of the poems are messed up , some are lovey- dovey, and some are meant to be empowering. I look forward to reading the sequel this year.
Rating: 5/5 stars