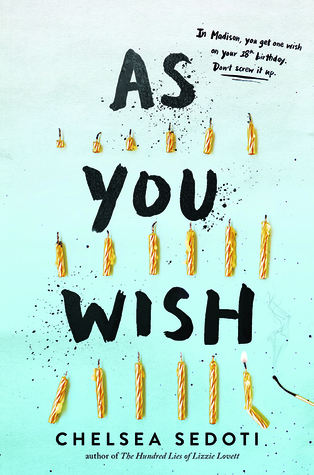 What if you could ask for anything- and get it? 
In the sandy Mojave Desert, Madison is a small town on the road between nothing and nowhere. But Eldon wouldn't want to live anywhere else, because in Madison, everyone gets one wish—and that wish always comes true.
Some people wish for money, some people wish for love, but Eldon has seen how wishes have broken the people around him. And with the lives of his family and friends in chaos, he's left with more questions than answers. Can he make their lives better? How can he be happy if the people around him aren't? And what hope is there for any of them if happiness isn't an achievable dream? Doubts build, leading Eldon to a more outlandish and scary thought: maybe you can't wish for happiness…maybe, just maybe, you have to make it for yourself.
My Review
I received this book from Netgalley and Sourcebooks Fire in exchange for an honest review. Technically I rated this book on Goodreads as a 3 stars, but I feel like it was more of  a 2.5 stars. At first I could not figure out what it was that was just "rubbing me the wrong way" with the main character, Eldon.At the end of the book some one said it and I was like yeah, that is it. In my opinion, he was so self-absorbed and self-pitying (and stayed obnoxious through the whole book) that it made it hard for me to read more than a little at a time. It wasn't the writing , it was Eldon. I also felt like until half way through the book, it was a bit slow and dragging then it was a rollercoaster of 'YAY' and "eh". It's not that I think it was a bad book, it just wasn't for me. I expected more … action(?) I guess or a fun book but it was kind of sad and angry instead and just fell flat for me.
Rating: 2.5 (leaning more towards 3 than 2.)