This tag was originally created by Sam from Thoughts on Tomes  and I found it on meltotheany's blog.
This tag was perfect because I love the Grinch (I have watched it 3 times in the last month. )
So I will be honest and tell you all that I will most likely be doing A LOT of Christmas/winter tags because I'm off the next few week from work and school. Plus it seems fun and I am hoping to get into the spirit.
➽1. Half of the lights on the Christmas tree are burnt out : Name a book/series/character that started out good but then went downhill
Okay so this is hard for me to say because I love the first two books but the second to books were ehh to me. I was so pumped and I felt a little disappointed but it was still a great series. Dorothy Must Die Series by Danielle Paige. I will say though, I will read anything by Danielle Paige!
➽2. Annoying Great Aunt Sally who will not leave you alone : Name a book that you didn't enjoy, but everyone else seems to love so it never goes away
The Fault in Our Stars by John Greene. Now it is not that I don't like it, but I didn't enjoy it as much as EVERYONE in the world seems too. It was just okay to me.
➽3. Your pets keep knocking over the Christmas decoration : Name a character that kept messing things up for everyone else (can't pick a villain!)
So I couldn't think of anyone besides Albus (Harry Potter's son) from The Cursed Child. He was so bratty and annoying. That is all that I will say about that.
➽4. You hear your parents putting out the presents and learn Santa isn't real: Name a book you were spoiled for
Hunger Games, Divergent, and Maze Runner because even though I watch the movies before I read the books (never got around to the books) people were talking about it so much that I already knew what was going to happen and never even wanted to read the books. I have a few just sitting on my shelf waiting though.
➽5. It's freezing outside: Name a main character you just couldn't connect with
Gansey from Raven Boys. Actually, I couldn't connect with any of the characters. I tried and wanted to like it but I just couldn't.
➽6. Mariah Carey's 'All I Want for Christmas is You' and it's giving you anti-romantic feelings : Name a couple you couldn't stand
I couldn't stand Tamlin and Feyre. He was like I'm the man and you're the airheaded girlfriend that is to only concern yourself with frivolous girl stuff like dresses and tea parties.
➽7. That scratchy homemade wool sweater you got for Christmas years ago but won't get rid of : show some books that have been sitting on your shelves for a while, and you aren't motivated to read, but you don't have the heart to get rid of
Hunger Games, Beautiful Creatures, Matched, and 5th wave
➽8. Grandma Got Runover by a Reindeer: Name a character death you still are mad about (warn people for spoilers! You can also use TV or movie deaths)
SPOILERS AHEAD
Even though I knew it would happen, Jest from Heartless killed me!Like why ? WHY?
➽9. The malls are overly crowded with holiday shoppers: Name a series that has too many books in it/went on too long
I don't have an answer for this one yet, I will get back to you.
➽10. The Grinch : Name a main character you HATE (No villains again!)
Tamlin from ACOTAR because he just rubbed me the wrong way. Arrogant buttface ___hat.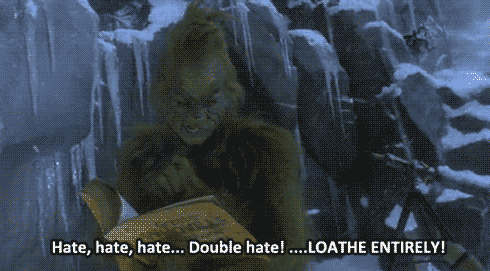 I tag everyone.