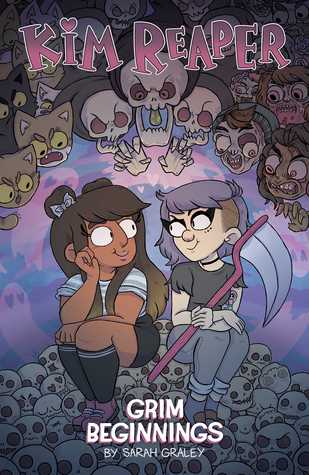 Goodreads Description
Part-Time Grim Reaper. Full-Time Cutie!
Like most university students, Kim works a part-time job to make ends meet. Unlike most university students, Kim's job is pretty cool: she's a grim reaper, tasked with guiding souls into the afterlife.
Like most university students, Becka has a super intense crush. Unlike most university students, Becka's crush is on a beautiful gothic angel that frequents the underworld. Of course, she doesn't know that.
Unaware of the ghoulish drama she's about to step into, Becka finally gathers up the courage to ask Kim on a date! But when she falls into a ghostly portal and interrupts Kim at her job, she sets off a chain of events that will pit the two of them against angry cat-dads, vengeful zombies, and perhaps even the underworld itself. But if they work together, they just might make it… and maybe even get a smooch in the bargain.
My Review
I received this book from Netgalley in exchange for an honest review. I requested it because I want to start trying to read comics and I have only read Ms. Marvel so far. The cover drew me in and it just looked super cute and cool. The comic was really cute but it was also cheesy. I didn't mind because it kept my attention but it did lack depth. The grim reapers talked like " OMG like Slay" which was a big put off but that may be just because I'm getting old and can't stand when kids talk like that. I think the flirtation was super adorable though and definitely wouldn't mind continuing with future volumes.
Rating : 3/5 stars
Recommend: Yes if your into this